In order to help enterprises effectively solve development problems, through systematic risk assessment of investment strategy and comprehensive compliance due diligence, International Union Construction Group established a parent fund for securities investment, focused on domestic and foreign secondary market investment, introduced high-quality capital for enterprises, and improved market share and comprehensive competitiveness.
In the field of domestic securities investment, the investment and research team of International Union Construction Group adheres to value investment and rational investment, with quantitative investment as the leading role, supplemented by macro research and event-driven research, invests in the domestic secondary market, gathers national strategic emerging industries through the parent fund, and effectively guides capital investment into the real economy.
In the field of international securities investment, standing on the global macro level, International Union Construction Group accurately grasps the operation direction of the market. Through the unique risk control system and strict investment decision-making process, it explores excellent investment targets in the secondary market and sets up the parent fund to connect with the global capital market and promote the development of enterprise globalization.
After years of rapid development, International Union Construction Group has increased the value of assets under management by several times, and has increasingly diversified the types of products under management. It adheres to the principle of low-risk and multi-strategy hedging in investment, and its product performance has been continuously stable, fully covering the investment needs of domestic and foreign institutions and high-net-worth clients.

Mother funds involve fixed income strategy, value strategy, quantitative hedging, mixed strategy, Hong Kong stocks, long stocks, CTA strategy, overseas assets and other full strategy allocation.


Through the internal screening system, we selected the top 50 fund managers nationwide as the alternative fund managers of the mother fund, and selected the top several fund managers that best fit the target of the mother fund as our investment team.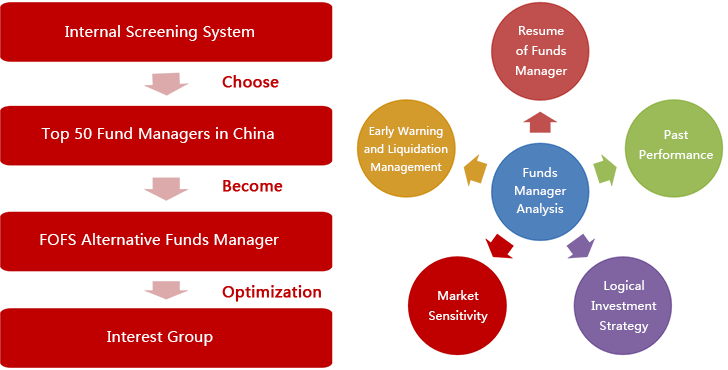 Tracking the fund with the strongest profitability, stable income and the smallest historical retracement among the top 100 funds in the industry performance comprehensive ranking, in-depth research was conducted to select the most cutting-edge sub-fund with the most investment development and in line with the profit target of the parent fund for strategic analysis and fund portfolio allocation.